We have all had to come to terms with a new world of online events. Our initial response was to find digital methods that could replicate face-to-face interactions as closely as possible. Generally the experience has been positive. However, as we have become more familiar with the new world of online, we have realised that we can do more than simply mirror the face-to-face experience.
One immediate benefit of digital is that we have discovered that topics can be covered faster than in a conventional meeting or conference because everyone is more 'zoned-in' and focused on one speaker. This means that presentations can and probably should be more concise.
Performing well online
Presenting online is different to commanding the attention of a live audience in a conference venue. Loud, strident and declamatory styles of communication can become tiresome. Too much energy can actually be off-putting, especially if you have to spend a few hours in the online company of a particular speaker. With many of us viewing these events from our living rooms or bedroom offices, we are, figuratively speaking, inviting speakers into our homes and private spaces. We don't then expect our 'house guests' to start playing to the gallery.
The best online performers have the ability to moderate their style, using a more relaxed and intimate approach that feels as though they are speaking to you on a one-to-one basis, rather than broadcasting to a mass audience. The same principles apply to a conference Chair or host. In a face-to-face environment, the Chair invariably has to be the most energetic person in the room – bouncing around the stage to sustain the audience's energy levels – whereas an online host needs to be more relaxed and less obvious, quietly moving things along and facilitating the speakers and interactive elements without appearing to dominate proceedings.
Being interactive and widening the audience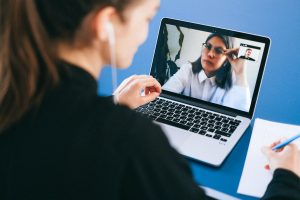 Now that everyone attending on online conference literally has a computer at their fingertips, we can include more interactive elements, such as quizzes, polls and electronic whiteboards to capture the outputs of brainstorming sessions. We can also mix live action with pre-recorded elements. We have been using virtual meeting platforms for large-scale meetings. These provide an end-to-end solution –a single platform from which to send invitations and emails, manage registrations, issue pre-reads, record sessions and handle post-meeting follow-up. Slido is a useful tool for handling Q&A sessions and for creating quizzes and polls, which are a great way to liven up a meeting. We also use Typeform to create forms and surveys, Miro for interactive whiteboards and Padlet to create online noticeboards featuring images, videos or text files.
One of the most positive aspects of the shift to online within the pharmaceutical sector is that it has opened up access to high-value content to a much wider group of healthcare professionals – you might describe this phenomenon as 'the democratisation of information'. Invitations to attend most traditional conferences and symposia tended to be reserved for senior professionals. Moving the content online has put events within the reach of far more people, crossing geographical and professional barriers, although this greater diversity of audience (especially if it includes more junior healthcare professionals) may have implications for the type of content that is delivered.
Difficulties of replicating informal conversations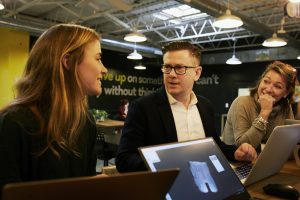 So much of the value delegates get from attending events comes from conversations outside the conference hall – informal chats during breaks and social events. This is the essence of networking and building partnerships and communities of interest. These informal chats, remain an area in which online events struggle to replicate. The irony is that our industry never worried about the moderating and monitoring of these face-to-face conversations – they were beyond the interest and scope of the regulators – but as soon as these conversations start taking place in virtual forums (where everything is visible) we begin to encounter code adherence issues.
Unfortunately, concerns about code adherence encourage event organisers to disable online discussion threads. This means that delegates miss out on informal conversations, debates become much more formal and networking becomes more difficult. We have yet to find a solution to this problem, especially one that addresses this code adherence issue. As is the case with many innovations within healthcare, the regulatory frameworks often struggle to accommodate the realities of the digital landscape. The transition to digital has moved so fast in the past 12 months that all of us have had to learn as we go – there isn't really a manual.
Traditional face-to-face meetings will return, hopefully in the not-too-distant future. Healthcare professionals will once more get on planes and gather together at conferences and symposia, but digital events will remain as part of the calendar. A blended model will emerge, combining the best of face-to-face and digital, live and virtual. It should allow us to deliver even more exciting opportunities to bring the science behind our clients' products to life.
Anjali Hall is Head of Digital at Cognite.